Planning your holidays in Reunion Island
Here are some great addresses to know for making the most of your stay on Reunion Island according to your tastes and the activities you would like to discover. Save them to your favourites!

– Guide du Routard Réunion
Listing all good addresses as in a directory, this guidebook is updated every year. You will always know where to find the places you don't want to miss wherever you are! In addition, benefit from a 5% discount valid for 2 people upon its presentation after your flight!

– Reunion Island Tourist Office
Essential to plan your holidays on the island, to organize your stay, your activities, accommodation and visits, the Ile de la Réunion Tourisme website will be of great help! A collection of good tips and cultural information to help you make the most of the wonders Reunion Island has to offer!
– Kokapat Rando Réunion
A whole team of professionals is at your disposal to set off on an adventure. Take a dip in the lava tunnels to discover these real geological nuggets and climb the famous Piton de la Fournaise to observe its spectacular craters. Or choose among the most beautiful trekking tours and guided hikes to immerse yourself in the heart of the incredible biodiversity of Reunion Island!
– O Sea Bleu Dive Center
Reunion Island is also known for its colourful and lively seabeds! O Sea Bleu offers you the most beautiful scuba diving sites in Reunion Island accompanied by a state-qualified instructor. The diving centre also offers cetacean observation trips with diving in the water. Depending on the period, you can see and swim near dolphins or whales. An experience rich in thrills!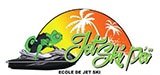 – Jet Ski Péï
For amateurs or beginners, Jet Ski Péï allows you to enjoy an incredible view over the west coast of the island. Pilot your jet-ski from the age of 16 with or without an instructor. Several models are at your disposal for guaranteed sensations!
Gay Friendly Label
This label is a pledge of trust. It guarantees a non-judgemental and equal welcome for all people in the labelled establishments.

– Réunion Urlaub
German friends, trust Brigitte Monat for your holidays with the Urlaub agency! Living on Reunion Island since 2007, she has advised more than 10 000 people who have spent an unforgettable stay on our island.